Dave Ganley Award
The Dave Ganley Award will be presented to individuals who have made an outstanding contribution to Hockey Officiating in Alberta. (Maximum two recipients per year.)
Criteria
Either an active or no longer active on-ice official
Made an outstanding contribution to hockey officiating in Alberta at the provincial level
Current or former member in good standing
Minimum of 15 years of involvement as an official, with at least five years working in administration (for example, Regional Committee member or local Referee in Chief)
Nominations
Must be received no later than April 1 (of appropriate year)
Must have accompanying documentation outlining the nominee's contribution
Must be submitted to the Award Committee chair, with copies to the Officials Committee Chair and Dave Ganley
Nominations will be brought forward for (2) years in addition to the original nomination year.
---
Dave Ganley Award Nomination Form >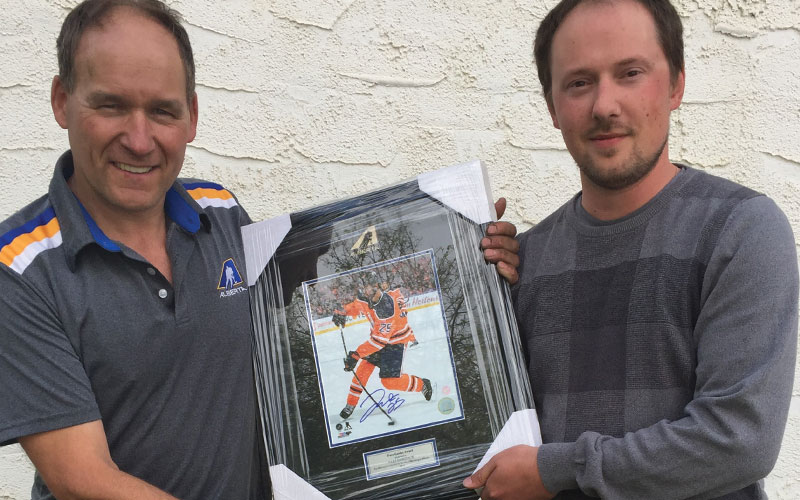 Gary Goreniuk (left) receives the Dave Ganley award from Northeast Zone Chair Rob Larson.

Gary began officiating at the age of 28 with no prior hockey experience, and is now in his 22nd season of officiating in the North East Zone. He quickly moved up to become a Level 4 Official, working Junior B and Senior hockey, as well as working lines in the Alberta Junior Hockey League.

Gary has served as RIC for Bonnyville for a number of years, and still assigns all of the hockey in Bonnyville and for some regional teams. He also supervises and mentors upcoming officials, and has acted as the Tournament RIC for a number of Provincial tournaments.
After serving time in multiple roles on the North East Zone Executive, Gary is now in his second year as the zone's Vice Chairman.
2017 - Doug Brown
2016 - Paul Isaac and Ken Dentzien
2015 - Aaron Brown and Gary Greenough
2014 - Brent Woods and Herman Costa
2013 - Dean Ziegler and Scott McNabb
2012 - Monty Wood and Jody Ginther
2011 - Darren Bauer and Brad Buchinski
2010 - Dave Butler and Andy Odenbach
2009 - Marcel Pigeau and Todd Swerda