Ernie Boruk Award
The Ernie Boruk Award is presented annually to an individual in appreciation of outstanding dedication and contribution to the Hockey Alberta Referee Council. (Maximum one recipient per year.)
Nomination Criteria
Either an active or no longer active on-ice official
Made an outstanding contribution to hockey officiating in Alberta at the provincial level
Current or former member in good standing
Minimum of 15 years of involvement as an official, with at least five years working in administration (for example, Regional Committee member or local Referee in Chief)
Nominations
Must be received no later than April 1 (of appropriate year)
Must have accompanying documentation outlining the nominee's contributions
Must be submitted to the awards committee chair, and copied to the Officials Committee Chair
Nominations will be brought forward for (2) years in addition to the original nomination year.
---
Ernie Boruk Award nomination form >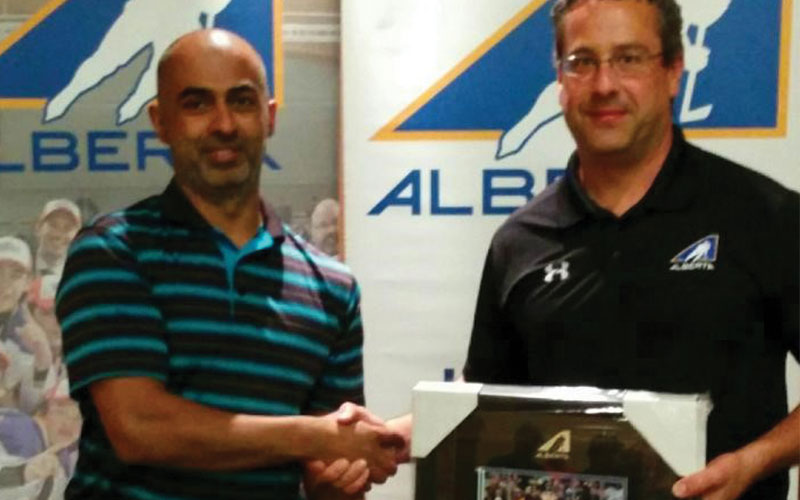 Kumail Moledina of Edmonton (left) receives the Ernie Boruk award from Curtis Nichols
Kumail first registered in 1993 in the South East District in Edmonton. He attended the Hockey Alberta Development Camp in 2000, and worked his way up to a Level 4 Official. He refereed Midget AAA, Junior B, and attended the Mac's tournament twice as linesman and once as referee.
He has held numerous positions at the zone level including Vice Chair and was on the Discipline committee. He also held the role of Secretary and was on the Rates committee and Social committee, supervision committee, he's been a minor Committee member. Kumail was also assigned in SE District for 3 years and in the AA program for one year. He's also handled discipline and elections, and launched the shadow program in Edmonton in the SE District. He was also a Zone Chairman for 4 years, and Provincially has held the position of match penalty coordinator
He won the Ron Panchyshyn Award in 2013 and the George McCorry Award in 2015.
| | | |
| --- | --- | --- |
| | | |
| 2017 - Dave Butler | 2016 - Craig DeCoursey | 2015 - Don Roberts |
| 2014 - Curtis Nichols | 2013 - Mark Woytkiw | 2012 - Dion Pollard |
| 2011 - Dave Shaw | 2010 - Marty Tingstad | 2009 - Karent Kost |
| 2008 - John Jacobs | 2007 - Miles Spencer | 2006 - Wayne Krausnick |
| 2005 - Mike Rebus | 2004 - Duncan MacDougal | 2003 - Ross Yarmuch |
| 2002 - Jim McNamara | 2001 - Keith Wilkinson | 2000 - Dwayne Lunquist |
| 1999 - John Kobal | 1998 - Bryan Morrison | 1997 - Wally Popik |
| 1996 - Dave Luke | 1995 - Ken McVicar | 1994 - Bernie Haley |
| 1993 - George McCorry | 1992 - Dave Ganley | |