North Central Region - Red Deer, Ponoka, Carstairs, Rocky, Stettler & Areas
Find us on Social Media
ANNOUNCEMENTS
North Central Region needs you - register for a clinic today!

---
| | | | |
| --- | --- | --- | --- |
| 3 C's (Castor/Coronation/Consort) | Todd Pawsey | [email protected] | 4037403527 |
| Bashaw | Stephen Holt | [email protected] | 4037839949 |
| Bentley | Bob McKinlay | [email protected] | 4033523804 |
| Blackfalds | Tyler Boruck | [email protected] | 4035978651 |
| Bowden | Gary Hilton | [email protected] | 4035075523 |
| Caroline | Kelly Tubbs | [email protected] | 4038441657 |
| Carstairs | Jeff Callaghan | [email protected] | 4036296677 |
| Clive | Adam Shackleton | [email protected] | 4033967183 |
| Cremona | Marc McCarthy | [email protected] | 4037003446 |
| Delburne | Jackie Hahn | | 4038963580 |
| Didsbury | Jason Pick | | 4034390244 |
| Eckville | TBA | | |
| Hanna | Ryan Spencer | | 4038549174 |
| Innisfail | Len Istace | | 4033181080 |
| Kneehill | Brad Geddes | | 4034124401 |
| Lacombe | Josh Smith | | 4033509995 |
| Olds | Justin Martin | | 4035862995 |
| Oyen | Ryley Girletz | | 4036640584 |
| Ponoka | Mike Dillen | | 4037041445 |
| | | | |
| --- | --- | --- | --- |
| Rimbey | Pauline Leduc | | 5878775208 |
| Rocky Mountain House | Cary Madsen | | 4034184832 |
| Spruce View | Mitch Hetu | | 4038953797 |
| Stettler | SANDRA SCHELL | | 4037416633 |
| Sundre | Paul Isaac | | 4039943835 |
| Sylvan Lake Minor Hockey | Darren Pickering | | 4038967039 |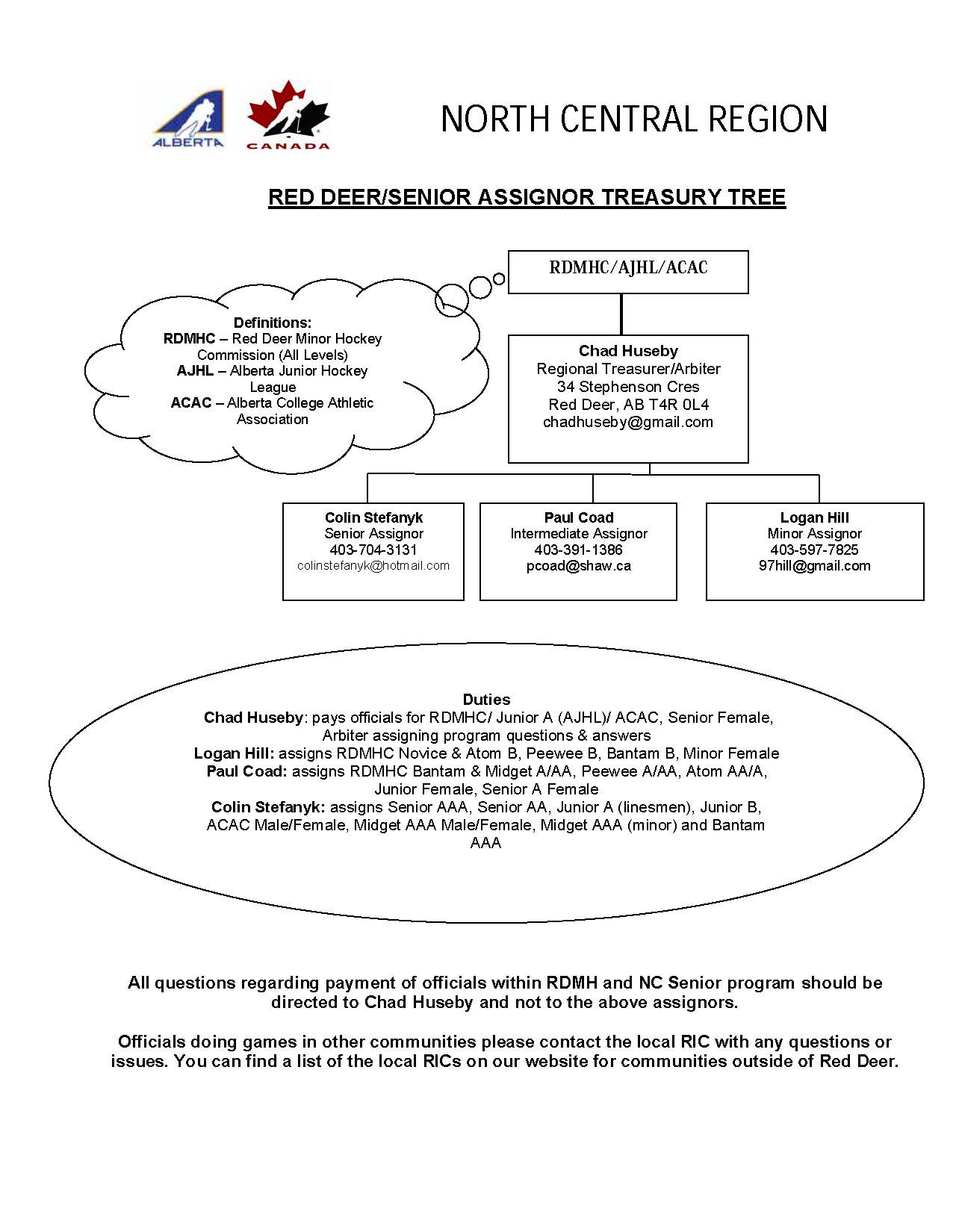 DRESS, CONDUCT AND DISCIPLINE
Dress Code
The intent of the dress code is so that people observing officials entering and leaving arenas are left with a favorable impression. Senior officials are to set a good example for young officials.
AJHL, USport ACAC
Shirt and tie, suit coat and or sweater, dress pants and dress shoes
Must be at Arena 60 minutes prior to game time
No baseball caps
Senior, Jr B, U18 AAA & U15 AAA
Shirt and sport coat and/or sweater, dress pants and dress shoes
Must be at Arena 45 minutes prior to game
No baseball caps
Minor Hockey (excluding AAA)
Clean dress pants and/or jeans
Must be at arena 30 minutes prior to game
Winter boots are acceptable in extreme conditions.
Officials not adhering to these guidelines will be fined 35% of game fee. It is an expectation that officials be clean shaven or that hair and facial hair be well groomed.
---
Discipline Code
Missed assignments
1 game – fine equivalent to the game fee
2 games – fine equivalent to the game fee + two-week suspension
3 games – fine equivalent to the game fee + three-week suspension
4 games – fine equivalent to the game fee + four-week suspension
5 games – fine equivalent to the game fee + year suspension
NSF Cheque: $25 collection fee
Ice Conduct: Swearing, liquor, and obscene gesture(s) – automatic suspension
Fines: All fines will be deducted from game fees and forwarded to Referee Fund
Suspensions: Will begin after last assigned game
Game Fees: Must not exceed Hockey Alberta Provincial Rates
Unsanctioned Hockey: No insurance covered and do not wear your Hockey Alberta Crest
The Conduct Management (Discipline) Committee has the final decision on suspensions and fines.All members have the right to appeal.
The Supervision Program is a vital program that helps the development of officials in our Region. Supervisions are a key developmental for young and old officials alike, and you never too old to learn something new from a supervision. For information on the role of the Supervisor, your role as an official being supervised, how to get the best out of a supervisor, and FAQs check the Supervisions page on the Hockey Alberta Officials website:
Each senior program official in the Region must conduct 12 supervisions. The first nine supervisions must be submitted by December 18 to get on the January schedule and the remaining three supervisions submitted by January 15 to be eligible for playoffs. Supervisions may be conducted on any level of hockey but the focus is on Level 1 and 2, and inexperienced Level 3, officials. Therefore, nine of the 12 supervisions are to be done on Level 1 and 2 officials.
The only way supervisions will be accepted is through the online Supervision Form:
---
For questions about Supervisions in the North Central Region, contact the David Westwood, Supervisions Coordinator.
Cell: 403-872-4348
Assigning within the North Central Region is done through the Arbiter online assigning system. Cheques are issued to officials on a monthly basis (starting in November), based on officials meeting the following requirements:
Cheques are processed on the

15th of December and February, and end of the season.
Requests must be submitted by the

10th

of the month to receive a cheque that month. All requests are to be submitted via email to the North Central Finance Coordinator. This is the only accepted format. No other submissions will be accepted. (Example: To receive a cheque for games from the start of the season to December 15 you need to let Chad Huseby know by December 10 that you would like your cheque that month).
Ensure your address is up to date on the Arbiter System as the Finance Coordinator gets your mailing address from there.
If you don't request a cheque at all throughout the season one will be mailed out in April once all the games are completed.
If you have any mileage or miscellaneous expenses that you need to be paid for you will need to fill out this

expense form

and then submit via email for reimbursement.
---
Frequently Asked Questions:
1. What happens if i forget to email by the 10th? Can i still get a cheque that month? Unfortunately no. There are a number of background issues that make it very difficult for Chad to issue a cheque whenever you ask for it. However next month is never that far away and you can put your request in for next month.
2. When can i expect to receive my cheque? Cheque requests are processed on the 15th of December and February, and then at the end of the season, and mailed out ASAP after that, so cheques should arrive by around the 20th of the month.
3. What if the number of games I have done doesn't match Arbiter? This often happens when you fill in for somebody and the person for whom you fill for fails to notify the assignor. Contact the assignor for the game that is missing and then get the change straightened out on Arbiter. Please ensure you ask the person you are replacing if they have notified the assignor, or drop the assignor an email to confirm the change and ensure you will receive proper payment.
4. I forgot to change my address on Arbiter before i requested a cheque? Change your address on Arbiter and then email Chad and let him know he may be getting the cheque back in the mail. This way he can also put a stop payment on the cheque to ensure it isn't cashed fraudulently.
5. If I haven't requested a cheque all year when can i expect to be paid? The goal is to have all the cheques finalized and mailed out by April 15.
6. Will you send a reply email to me letting me know that my cheque is in the mail? No. If you email later than the 10th you will receive an automatic return message notifying you that you missed the deadline and you will need to try again the next pay period. If you haven't received the cheque by the 25th of the month please email Chad and hopefully he can provide you with the answer as to why.
If you have any questions about anything related to the payment process please contact the North Central Finance Coordinator Chad Huseby at [email protected]